Just as the upstate New York farm where Woodstock was staged is it for the flower power generation, just as Memphis's Stax Studios and Berry Gordy's "Hitsville USA" Motown headquarters are the combined spiritual home of the music that defined most African American baby boomers' youthful years- – -The Country Blue Grass and Blues Club, better known as "CBGB," is hallowed ground for the "BLANK Generation," those late era baby boomers who created the glam, punk and new wave movements in rock from 1973 to 1981.
CBGB and The Blank Generation
Listen now to the two-part documentary.
CBGB and The BLANK Generation – Part 1
CBGB and The BLANK Generation – Part 2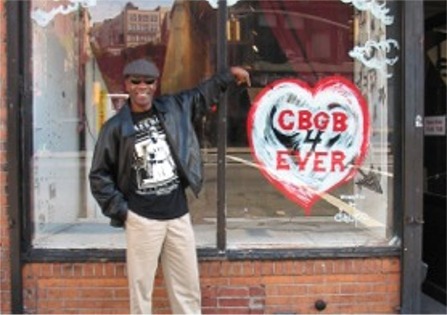 I've been to Stax. I've been to Hitsville. Heck, I've even been to SUN Studios, where Sam Phillips' flinty production hand sparked some of the BEST early rock and roll. Paul Simon once sang "he was goin' to Graceland." But, thank goodness, I DID GO to CBGB's. . .right before it closed its doors forever on Tuesday afternoon, October 31, 2006, in New York City.
Smith had headlined the final concert performed there on October 15, 2006. I wish I had been at the show. But, I was happy just to meet club founder and owner, Hilly Kristal, after I rode the subway down to the club. I shook his hand and said, "Thank you." Then, I gave him a CD of the audio tribute you can download from this site.
What did I get out of this visit? Well, I sensed a few ghosts. Joey Ramone sang there. Arthur "Killer" Kane of the New York Dolls played his bass there. Johnny Thunders thrashed his guitar there- – -although neither played CBGB's with the New York Dolls, but performed there with spin-off groups after the Dolls broke up. I'd seen photos of the place. It looked small and ratty. When I laid eyes on the place in-person, I realized it was small and ratty, featuring a very long and narrow performance space.
As I arrived at the club on that incongruously bright and warm Halloween afternoon, CBGB's workers were busy dis-assembling the wooden stage that Richard Hell and Tom Verlaine had built for the place themselves so their band, Television, could perform in the club back in early 1974.
In retrospect, I suppose this compulsion to visit the place was just another step in mapping my musical genome. I know I'm an odd duck, a mutant, a fifty- something African American male who relishes good rock and roll. Chalk it up to renegade DNA.
Most of my generation checked out the Beatles, admired their boots and then returned to the racially and musically segregated communities that remain the norm here in America for more reasons than I have time to mention. But, not me. I continued to follow rock after Beatlemania subsided. I loved its energy, its daring, its self-invention.
I turned 21 just as the punk movement was exploding in NYC. Although I was in grad school at Atlanta University, I lived punk rock vicariously from 800 miles away, peering wide-eyed through the "magazine window" of Creem and Rolling Stone. My black leather jacket and tattered jeans drew disapproving stares from brothers and sisters in the 'hood. My "rocker style" guaranteed my expulsion from the up-and-comers club of the black bourgeoisie. I didn't care. My father was a factory worker. If it wasn't for the unfortunate reality that all blacks have to deal with racism and that this battle against racism forges a powerful shared identity that overwhelms all the other social and economic factors that differentiate us, I was more a product of the blue collar culture that spawned punk than I was of the genteel world of Atlanta's African American elite. But, hey, I'm overanalyzing. I was just being who I wanted to be at that point in my life. It was only rock and roll- – -and I liked it.
Who DOESN'T at some juncture revisit their youth? I suppose it's my turn to do so.
To the bemused security guards and irritable workers, I was just another obvious Out-of-Towner gawking and snapping photos of the legendary rock club in the Bowery.
"But, CBGB's. . .I'm glad I visited your storied confines."