Rodney Hoskins is a powerful tenor-baritone who cites Nat King Cole, Aretha Franklin and Luther Vandross as his inspirations and major influences. He says he loves Nat's impeccable vocal timing and enunciation, Aretha's passion and Luther's sweeping range.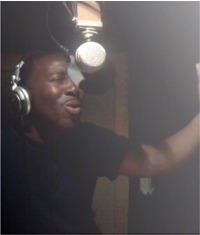 Yet, Rodney was so impressed with the songs written for him by SIDney Howard for the Mune-Pi Parables album, that he flew back to Motown to be a member of the Mune-Pi cast of vocalists. Everyone involved in the project is happy he did.
Rodney's unique voice caught Quincy Jones's ear, who recently included him in a theatrical production. This young man was given the coveted privilege of singing the National Anthem for the Los Angeles Dodgers on Opening Day of the 2007 Season, the same day on which most of America celebrated the 60th anniversary of Jackie Robinson breaking the color barrier in major league baseball. Rodney, a native of Detroit, has made his home in lovely Santa Monica, CA for several years now.
Listen to Rodney Hoskins' interview with Jack Marchbanks at KCRW in Santa Monica

Rodney Hoskins
You can hear excerpts of Rodney's performances of "Settled And Due," "I'm the One" and "Can I Fly Away w/U?" below.
Listen to Settled And Due sample
Listen to I'm the One sample
Listen to Can I Fly Away w/U? sample