Enteje co-founder and contributor, Jack Marchbanks, interviewed gospel legend Willa Ward-Royster during Black History Month 2008. Willa is the older sister of famous gospel singer/songwriter, the late Clara Ward (deceased January 1973).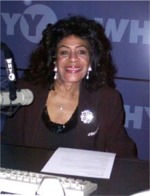 Willa Ward Remembers
The Ward Singers blazed the trail for women in gospel from the early 1930s through the 1960s. They were genuine AND glamorous. In this interview, the  gospel icon reflects on her career and the golden age of Black religious music.
---
Music Legends of jazz, funk, soul, rock and gospel music. Interviews, documentaries and commentaries featuring top musicians of history.
Check out other collaborative works by Enteje founders.