Aaron Diehl Takes Detroit Jazz Festival by Storm.  Well, after the storm, actually. A powerful thunderstorm blew through the Detroit Jazz Festival (DJF) Saturday evening, September 3rd, with stinging airborne gravel and horizontal rain propelled by 60 mile per hour winds.
Yet, by Sunday morning, DJF's resilient organizers had once again turned the September 1-5, 2011 event into "Jazz Disney World" (without the four day pass $219 admission fee and long lines) for those who love the music and the artists who make it. On location to cover this largest free jazz festival in the entire world for WCBE's Jazz Sunday, I had the privilege of meeting Columbus's own Aaron Diehl, a pianist who is among the brightest young stars in the jazz firmament.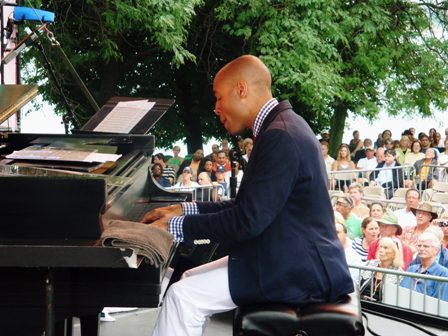 His quintet— featuring Wes "Warm Daddy" Anderson on reeds, Dominick Farinucci on trumpet, Yasushi Nakamura on bass and Lawrence Leathers on drums—delivered a stunning set on an overcast Sunday afternoon by the Detroit River. Diehl displayed his jaw-dropping range, including his mastery of classical music, a rhythmic zest for stride, soulful gospel and elegant arpeggios that would have made Keith Jarrett smile. And, the young man (25 years old) can swing. Diehl, Farinucci and Anderson created their own summer storm on stage with their whirling rendition of Nat Adderley's "Little Boy With The Sad Eyes."
Detroit's Mack Avenue Records has signed Aaron Diehl to its burgeoning roster of A-list jazz talent. Diehl, who in April of this year won the prestigious American Pianists Association's Cole Porter Fellowship for Jazz competition, will be going into the studio later this month to record his debut album for the label. Mack Avenue Records president Al Pryor is bullish on Diehl's prospects for success. Aaron Diehl is a man of Christian faith, who serves as music director for Harlem's St. Joseph of the Holy Family Church. Despite his hectic touring schedule, Diehl strives to be back in Harlem to direct the music for church services as many Sundays as frequently as he can. Still, I'm glad he chose to take a sabbatical this particular Sunday to share his God-given talents with an appreciative audience in Detroit.
Review and Images by Jack Marchbanks
Language Universal Co-Founder and Contributing Writer
September 6, 2011
---
Music Legends of jazz, funk, soul, rock and gospel music. Interviews, documentaries and commentaries featuring top musicians of history.
Check out other collaborative works by Enteje founders.