NEA 2010 Jazz Masters Ceremony & Concert: Greats Glow In Gotham
If great music is light, and in a way, it is illumination to the soul, then the sumptuous sounds emanating from the Lincoln Center on Tuesday evening, January 12th beamed a beacon into the heavens brighter than all the combined marquees in Manhattan at the Jazz Masters Ceremony.
The National Endowment for The Arts honored seven jazz greats and one great jazz benefactor by bestowing upon them the rare title of "Jazz Master."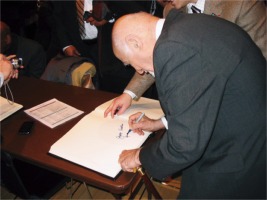 The Class of 2010 Jazz Masters includes composer Muhal Richard Abrams, record producer George Avakian, pianist Kenny Barron, arranger Bill Holman, vibraphonist Bobby Hutcherson, reed multi-instrumentalist Yusef Lateef, vocalist Annie Ross and pianist Cedar Walton.
On Tuesday night, January 12th, Barron, Lateef , Ross and Walton all performed their own music . Abrams, Holman and Hutcherson had their compositions ably performed by the Jazz At Lincoln Center Orchestra With Wynton Marsalis. In many ways, the Jazz at Lincoln Center Frederick P. Rose Hall is the"house that Wynton built." But, on Tuesday night, he appeared genuinely honored to simply play trumpet in the orchestra and announce the honorees. The music they shared, again, gleamed with genius. From Abrams' careening orchestral free jazz to Cedar Walton's gentle homage to his late mother who inspired him to play piano, the sheer artistry enraptured all who attended.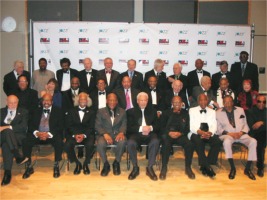 Jazz Masters Ceremony: Greats Glow In Gotham
The NEA established the Jazz Masters award in 1982. It can only be given to living artists. In addition to the recognition, each artist receives a $25,000 cash award. New honorees are generally named in the Spring, with the actual induction ceremony occurring in the following January or February. In the 28 years since the establishment of the Jazz Masters, the NEA has chosen 114 individuals for the honor, including the 2010 class.
As a music reporter for 90.5-FM WCBE (central Ohio's most-listened-to NPR station), it was my distinct privilege to be invited to this year's event. WCBE's station manager, Dan Mushalko, has somehow earned the favor of the NEA's Victoria Hutter in Washington, D.C. She asked if WCBE, which is gaining a reputation for being serious about the music because of its jazz programs on Sundays, wanted to cover the NEA 2010 Jazz Masters ceremony at the Lincoln Center in New York City. Dan asked would I cover the ceremony for our station. If you loved jazz as much as I do, how would you respond?
Pre-Show Graciousness from Jazz at Lincoln Center
I arrived in New York late morning January 11th and found myself treated very hospitably by the Jazz at Lincoln Center's public relations liaison Bridget Wilson. She graciously set up interviews for me that same afternoon with Kenny Barron and Annie Ross on their breaks between rehearsals for the January 12th concert. I sat in an acoustically perfect piano recital room and waited, but not for long.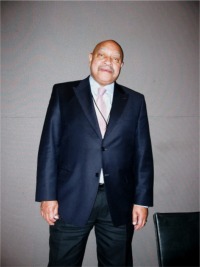 Kenny Barron looks great for his age (66) and attributes it to following his wife's lead in cutting red meat, white sugar, cheese and white bread out of his diet. Mr. Barron said he's not a vegetarian , but he's definitely moved on from his "bad" eating habits. As to his musical output, particularly his last album, The Traveler, Barron says he "now feels freer in expressing himself." Perhaps, one of the reasons Kenny Barron looks and acts young for his age is that he is a great believer in mentoring young artists and students. That's one of the reasons he recruits young musicians for bands. "I feed off their energy," said the former Rutgers music professor.
Annie Ross, she of the vocalese pioneers, Lambert, Hendricks & Ross, is a loveable diva, out of the mold of Carol Channing and the millennial generation's Beyonce Knowles. When she sat down for her interview, Ms. Ross was at first a bit harried, because she was due back at rehearsal in 10 minutes. But, when I showed her WCBE Jazz Sunday's January 10, 2010 playlist, which included three Lambert, Hendricks & Ross standards and her own solo version of "Let Me Entertain You," from the Broadway show, Gypsy, she smiled warmly and told me to close the door. She said she didn't want the hallway noise to muddy my recording of our conversation. Jazz is still a true love for Ms. Ross. Her family brought her to America from Surrey, England, with hopes of little Annie becoming the "Scottish Shirley Temple." But, in Los Angeles, she heard an Ella Fitzgerald record and said "I want to sing like THAT." She fell hard for jazz and remained in love with it. When I asked her what, over her storied career, was her best gig, she didn't hesitate one instance in saying:
"Singing in front of the Count Basie Band. All that swinging power behind me "I'll never forget it."
After I wrapped up my interview with Annie Ross, Bridget Wilson poked her head in the door and asked how it went. I said, "wonderfully," of course. Bridget smiled and then offered me an opportunity to participate in a pre-concert photo shoot of the assembled Jazz Masters an hour before the awards ceremony. Who says New Yorkers are nasty to out-of-towners?
Brother Hold Your Light
The following night I arrived early for the photo shoot. They invited the photographers and videographers into the room around 6:45pm. . . less than an hour before the concert was supposed to begin. So, we were under pressure to get in, take the photos and get out. Everyone clamored in with their impressive equipment and I sheepishly made sure my little 35mm digital camera was on. I turned the corner and was stunned. It wasn't just the 2010 honorees who had assembled, there were over 30 of the 50 or so living Jazz Masters all posed for a literal "class photo". Jon Hendricks was there, Jimmy Heath, Billy Taylor, Toshiko Akiyoshi, Candido Camero, Paquito D'Rivera, Frank Foster, Gerald Wilson, Lee Konitz, Buddy DeFranco, James Moody. . . I lost count. I snapped a couple of shots and stepped back out into the hallway to catch my breath. I saw one of Bridget's assistants watching me. I asked how many Jazz Masters were in the room. "I think the count was 34," she said. "Priceless," I marveled.
There were still a lot of camera flashes going off in the room, so I went back in. The Jazz Masters had scattered about the room, some of them sitting alone, a few of them being interviewed, but most of them chatting happily with each other. I spotted Annie Ross talking to Jon Hendricks in the far corner of the room. Oddly enough, many greats and their family members were standing in a high school cafeteria style buffet line to quick grab a meal before the concert. Even jazz greats never really escape high school.
Then, I caught sight of Yusef Lateef. The regal octogenarian sat patiently while a twenty-something female reporter held a microphone close to his face and her assistant recorded the interview on his digital video camera. A few minutes on, Mr. Lateef gently but firmly signaled the interview was "over" by standing up and saying he had to prepare for the concert. He has a powerful but serene presence, akin to that of a truly holy man. I chanced to quickly greet him. I told him I reported for WCBE and that the Kirk family shared with me that Columbus- born reed multi-instrumentalist Rahsaan Roland Kirk admired him greatly. Mr. Lateef smiled softly when I mentioned Rahsaan's name. I said it was a blessing to meet him. He responded that it's a blessing to be here.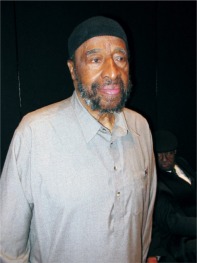 Later that night at the Jazz Masters Ceremony, Yusef Lateef enthralled the audience, with just himself and a single accompanist, both playing a host of Eastern percussion instruments and flutes. Yusef also played his tenor saxophone, but he moved the audience most when he sang in a strong voice the lyric to "Brother Hold Your Light," words that hark back to the days when African Americans fled slavery on the Underground Railroad. The song has a deeper spiritual meaning, too. "Brother, hold your light…help me see how to get 'cross the river … to the other side."
Yusef Lateef's light beamed brilliantly on a night full of "bright moments," to use a phrase coined by his Columbus-born protege.
Article and Photography by Jack Marchbanks ©2010
---
Music Legends of jazz, funk, soul, rock and gospel music. Interviews, documentaries and commentaries featuring top musicians of history.
Check out other collaborative works by Enteje founders.